Remember the good old days when eating out meant decking up in your finest clothes going to a restaurant, and then picking up from the menu to wait for a steaming order to arrive at the table. Fast forward to the times today. Everyone is busy. People have hectic schedules, faster lives and a whole lot of commotion in between.
This is where the food delivery network falls in place. As more and more people are finding it hard to make it a practice to physically reach a restaurant to eat food, they want to opt for a convenient and faster option like online food delivery.
The two most popular players in this industry across the world today are Deliveroo and UberEats. So, if you are planning to start your own on demand food delivery business based on an app, you must be keen on picking the format from one of the two.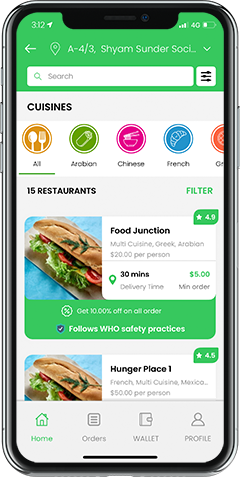 This is a blog post that analyses both these apps to identify which one seems to be better in terms of a viable business option for you.
Let us take each app individually and then find out their best and worst features.
Deliveroo
The first thing that you would notice about Deliveroo when you download it for use is that it is designed in a beautiful and vibrant fashion. Its turquoise overall look is certainly something that makes the user feel welcome within the app.
Apart from that, the overall look and feel throughout the application is very warm and inviting. It almost makes the user feel fresh and excited about placing orders. Also, the images that are used in describing the pictures are super tempting.
Another slick feature in the app is that it allows customers to filter their food requests based on how hungry they are. This basically means that people can schedule their takeaways beforehand. If someone wants to plan a dinner takeaway, they have the option of making the food booking during the daytime as well.
The left bar on the app showcases the user's profile, including their details and payment information etc. Everything on the app makes sense. Nothing seems to be difficult to understand. Stuff on there is pretty self explanatory.
Other interesting features include offers and referral codes. These codes however, only seem to work on the website. The app, obviously allows the users to place orders from the web version. There are different filters, ranking systems and filtering options based on cuisines and restaurants.
The app is quite brilliantly designed to make the user absolutely comfortable in looking for restaurants and placing orders. Once the restaurant is selected, you get a quick summary describing the restaurant and its specials.
Of course, there is a map integrated within the app for the customers and the admin to track the deliveries as well. That was all about Deliveroo. Now, let's hop onto the other option.
UberEats
The UberEats app too is quite a delight to order from. Since the app is so popular, finding it and downloading it is absolutely easy. The user interface of the application is super simple. The app is so intuitive that it is super navigable without any problems.
The look and feel of the app is very functional. It's not about loud colors or pretty patterns. It serves the purpose that it is meant for. You don't have to fidget about appreciating its starlit beauty. You log in, look for your restaurant using the filters based on proximity, cuisines, dishes etc., place your order, checkout and then track it all the way to your doorstep.
The images used to describe the dishes are very beautiful and vibrant. There is a convenient dashboard that outlines the user profile including their bonus points, their wallet balances, and other details including their payment details.
Conclusion
If you are looking to build your own on demand food delivery business based on an application then the UberEats clone seems like the best option. The interface of the application is very seamless. If you are serious about making an online food delivery business based on an app, make sure that you only get your app developed from professional white labeled app developers.
This will help you get the application that you need with your own brand name and logo. What's more, it will also ensure that you don't end up spending money on hiring in house resources and building an app from scratch.
Since the app will be based on the UberEats application, it will essentially be an UberEats Clone. This means it becomes easy for you to do your business because the app will have already been tested on hundreds of thousands of people.
Building your business needs the perfect app and a number of tie ups with popular restaurants. You will have to focus on ensuring that you do a little bit of market research to find out which is the best area for you to launch. It might also be a great idea to study your local competition and try out their on demand food delivery app to know what are the parts that you want in your systems and which are the ones that you want to avoid.