Smartphones have made our lives easier. Digitization of everything has taken the technology one notch ahead. It has made it extremely convenient and quick for people to avail of all sorts of on-demand services these days and it includes as basic as a car wash. Yes, you heard it right. In our busy hectic lifestyle, an on-demand mobile car wash app is a boon. We no more, have to make an appointment, stand in queue for the turns, and waste most of our day to get our car wash done. With the car wash app, everything is easy, quick, and hassle-free.
Still not believing? We have ample reasons to convince you.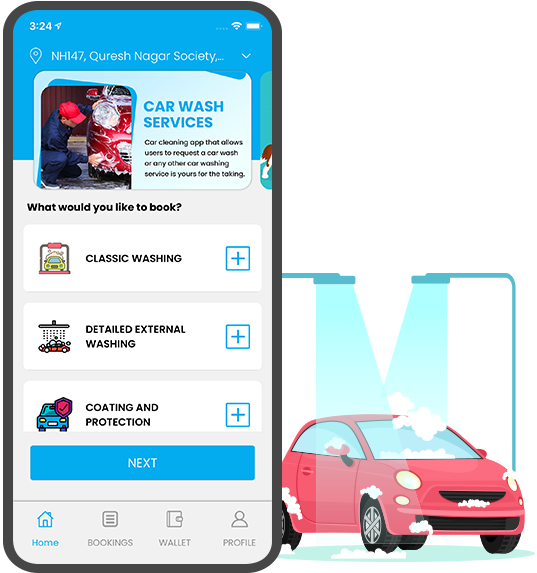 You no more will be driving for the car wash
A mobile car wash business brings convenience to you. Whether it is office premises or home, it comes to you. You no more have to drive there or stuck in traffic, to complete a simple task like washing your car. On top of that, there is a line that you have to wait to do the job done. Mobile car wash app minus that all chores and more by getting the professional, that will come to you at your desired time and date. Additionally, the car wash app also provides you with scheduling the car wash.
Value for money thing
If you are waiting for your car wash even after you have made an appointment, what will you pay for? You are taking your car to wash out of your busy time and here you are waiting in the line. Are you getting value for your money? What's more, an automated car wash machine is no match to a car wash done by a professional. The mobile car wash app provides great value for every money you spent by ensuring that your car is washed manually by a professional. The mobile car wash app has undergone an extensive background check for the professionals listed with them and they are insured.
You have a busy schedule
The main reason why people are using the mobile car washing app is they are unable to fit the washing task into their busy schedule. Now you don't have to worry, you will be driving a clean, neat car on your way back home. The car washing person will visit your place with all the necessary equipment. Rest assured your car is in good hands when the professional is doing your car washing.
You build a great repo with your service provider
The typical car wash center lack the human touch. The mechanism cleans the car which is not thoroughly done. The mobile car wash app connect you with a car washing service provider that you get to choose from and send you a washer who knows the job well. The technicians are skilled and knowledgeable when it comes to cleaning your car.
You are unable to wash your car
Apart from being busy, different reasons may hinder your car washing schedule. Sometimes you are stuck out of town, or you don't have washing tools, or maybe disabled. You can rely on a mobile car wash app to do the job. They are reliable, safe, secure, and treat your car as much as theirs.
Using a Mobile Car Wash app is very simple and basic. All you have to do is open the app, log-in and it will ask to schedule the car washing service. You can choose "Wash now" Or "Wash later" that comes with different options like Basic, Premium, and Deluxe. The service prices vary depending on which you choose. Regardless of the package you choose, your professional car washer ensures that you are happy with the service. You pay for the services online through a secure SSL payment system. Once the payment is made, you will see the picture of the car washer professional, their ratings, and other details along with. Once they completed your car washing, you will rate them and even leave a comment regarding service to help others know your experience with that particular car detailer.
Wrapping Up
The on-demand app economy is growing in leaps and bounds and people are also moving to such apps for availing service like a mobile car wash.
Since the car wash industry is booming, it is highly likely that the app will have a bright future and these apps will tend to do well in the nearing future.
From start-ups to big companies, all are investing in developing on demand apps. Hiring an experienced mobile app development company to under them and build a unique on demand mobile car wash app for your business. The apps provide a complete solution for those who like to avail themselves of services from the comfort of their homes.