Online on demand grocery store delivery businesses have taken off like never before. Today, as more and more people have become dependent on their smart phones. The popularity of such businesses is also growing tremendously. While there are many different kinds of online on demand grocery store delivery solutions available in the market. The ones that have definitely caught the eye of the users seems to be the InstaCart Clone.
In today's blog post, we will try to identify and enumerate the biggest reasons that contribute to the popularity of this business. And also try to find out how one can successfully get their own on demand grocery delivery solution like the InstaCart Clone.
So, first things first. Before diving into the reasons that contribute to the overwhelming popularity of the InstaCart Clone. Let us try to understand what the app is all about. The InstaCart Clone is essentially a simple to use on demand mobile based application that allows users to shop for groceries online using their smartphones and then get them delivered to their doorstep instantly. It has been around for a few years now and owing to the kind of money the parent company ended p making. Many entrepreneurs have quickly followed suit by building their own platforms similar to this.
Especially with the CoVid 219 Corona Virus outbreak, more and more people were locked down in their homes and housebound. Which gave a surge to the number of orders being placed online and therefore turning the already profitable company in to a massive success.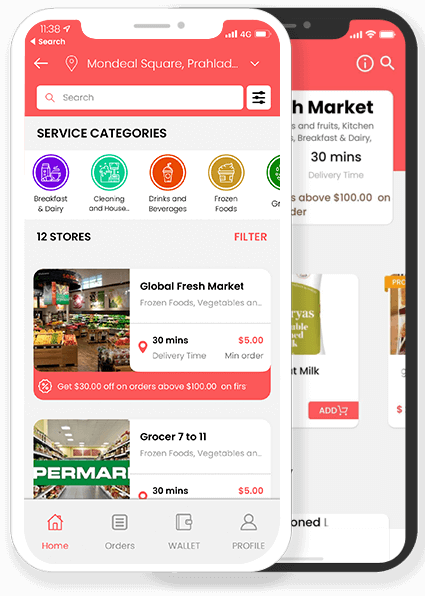 Now that we've got that covered. Try to turn our attention to the reasons that have contributed to the popularity of the InstaCart Clone.
Why is InstaCart Clone Grocery Store Delivery So Popular?
The main reason of the popularity of the InstaCart Clone stems from the fact that the InstaCart Clone app itself has a major fan following. With hundreds of thousands of users across the board. It has proved itself as one of the most sought after on demand grocery delivery platform in the world. Now, for the cloned app. Here is a list of reasons that have contributed to the fandom that the InstaCart Clone app has garnered.
No Need to Unlearn
While technology is moving up in strides, the people that use technology aren't necessarily being aware or educated enough to use every new wave at once. What we are basically trying to say is that as humans we all face an initial inertia when faced with something new. Regardless of how simple or convenient a novel solution seems. There is always some resistance in the market to accepting it.
If some one attempts to reinvent the wheel by creating a whole new flow and working model of the grocery delivery platforms that work in an online module. Then the market will most certainly resist it to a point.
However, with the InstaCart Clone app, since the flow and functionality of the app continues to remain the same with the exception a few added features here and there. An entrepreneur is not forcing their clients to unlearn what they already know in order to be able to learn how to use their app.
This might seem like a simple and small reason, but when you study market trends and consumption behavior. You will quickly see the reaction that users have to any novel introduction and the way people react to existing formula. The contrast between these two behaviors can be eye opening to say the least.
Effective and Simple Design
Many a time, when people start their own businesses. They have a couple of ideas and a preset notion of exactly what they want from the business. This preset prejudice may blind entrepreneurs from recognizing and making available solutions that the customers are looking for.
Essentially, it is important to understand that while the business may be your baby. Its sole purpose is to be useful for the end users, be it your customers or your grocery stores or even your delivery drivers.
Therefore, it is of critical significance that you ensure that the design of your app is simple, effective and not too confusing. If you observe the InstaCart Clone app closely. This means that it only has things that have a certain utility and nothing apart from that.
Online Payment Facility
The biggest reason that makes InstaCart Clone so popular is perhaps rooted in the fact that it makes the entire transaction of payment absolutely seamless by facilitating online payments. One can make easy online payments using payment gateways. That work in the region that the entrepreneur wishes to launch the app in.
Getting your Own InstaCart Clone app for business
There is no doubt about the fact that there are thousands of InstaCart Clone app development companies out there. In fact, one shouldn't be surprised. If they find freelance developers to working their butts off to build a seamless InstaCart Clone app. However, amongst these thousands of apps, which one is the right match for you?
It might initially seem like an overwhelming choice to make. However, it is actually very simple to determine the right app for your business goals. Free demo of the InstaCart Clone app built by 3 to 4 top companies.
Once you do that, you will become a little familiar with the flow and the working style of the app. Comparing features and the pricing of the company that you are purchasing from.
Making sure that you only go for an grocery delivery app that is built by a white label on demand mobile app development company will go a long way in ensuring that your app is not only a functional one. But that you have complete ownership of the app post purchase, including elements like the licensed source code.