The world saw a new trend in ridesharing and taxi booking app businesses when Uber was launched. In fact, it is actually very unnerving when taxis that Uber does not even own are providing transportation to customers, giving Uber a net value of over $62 billion.
The business model of Uber has been designed such that the app acts as a middleman, linking the taxi driver and the customer. This business model has been scaled to such an extent that there are many Uber like apps all over the globe. This is because startups and entrepreneurs have seen a new and easy way of making money. Uber's statistics show that it is available in 60 countries, 300 cities and delivers one million rides daily. Today it has a fan following of over 18 million users. These figures alone are enough for anyone to think about how they become the next Uber.
Launch your Own Taxi Booking App like Uber
The success of the above apps just goes to prove that if you have the right idea, in the right place then you too can be a successful owner of an app based taxi business. There are many developers, who have designed clones of these famous apps. So, everyone requires to do is identify a niche, get your app customized accordingly and also launch your own white-labeled taxi booking app in a country or city of your business location.
These apps can be launched on both iOS and Android platforms and are very easy and user-friendly to use, thus providing you with mass clientele. A taxi app has to be such that it can be used by everyone. This is why one has to put special attention towards the app being responsive and designed perfectly.
The on demand sector is booming like never before. With more and more people entering the domains of the app based business, it is only fair that you too can make the most out of it. An application is the best way to make sure that you make a whole lot of money continuously and effectively each time a booking is made through the application.
The launch of taxi booking app for your business
Given the fact that Smartphone technology has practically exploded worldwide, it is no surprise that Uber has been so successful. However, that does not mean that there is no room for you to start your own on demand business. Just like any other business, Uber has also left room for plenty of competition. Also, there is no reason why should not survive because there are so many similar apps. That has been launched and they are savoring the taste of success.
Let's look at a few successful apps that have been launched across the world. These apps are a remake of Uber and are running successfully wherever they are. As they say, there is enough room for everyone to survive.
Ola – It is the most popular taxi app in India. Launched in Mumbai, it started as a taxi app but now offers full transportation services by including shuttle and rickshaw and ridesharing services.
Didi Chuxing – Operating in 400 cities in China, this app is the world's largest mobile transportation platform. It offers all services including taxi rides, social ridesharing, carpooling, private cars, buses, chauffeurs as well as corporate services.
Grab – An all over Asia service, it offers all types of cab services, ranging from luxury high-end cars to motorcycle services.
Lyft – This was the biggest ride sharing app ever to be launched in the United States, whereby the app allowed you to see available drivers on a map in real time and book them via the app. The facility of in-app payment is also available as is the reviews and rating feature.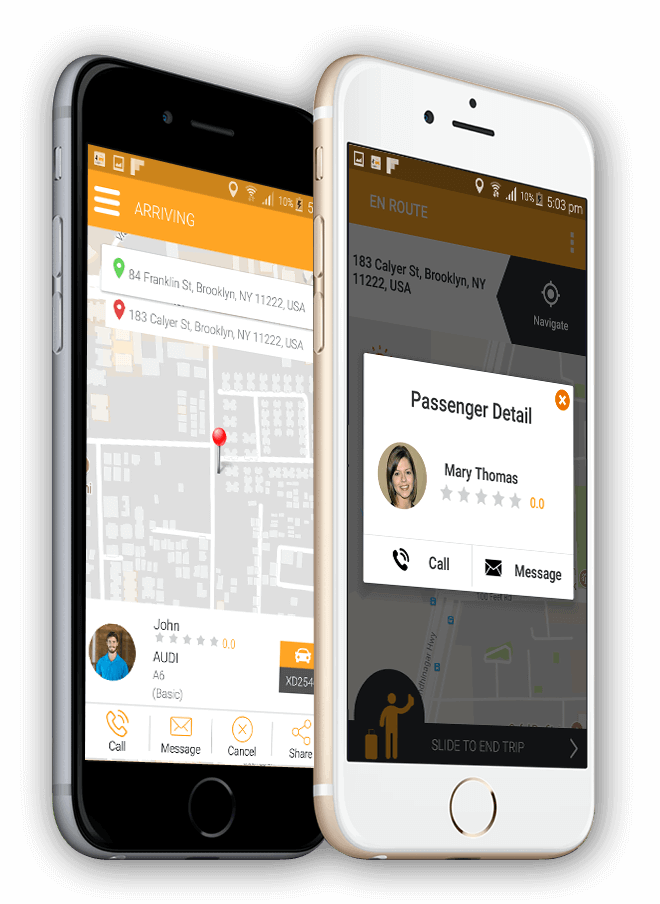 Don't Forget these Features
Below are some of the amazing features that need to be installed with the taxi booking app like uber:
View history
Google maps
Booking cancellation
One tap cab booking system
Searching for local taxis via the GPS system
An automated payment integration system
An artistically designed company name and logo
Push notifications, email alerts, and text messages
Multi-language and currency support
See estimated arrival time of the taxi
Select pick up and drop off location
Login facility through social media sites like Facebook and Twitter
The growing trends of taxis
These days taxis are no longer considered a luxury. Today people are ready to spend on small luxuries like limousines, cab rides, etc which are also a convenient mode of transport as well.
People have become mobile. Business has become transient. People continuously move from one place to another. This is why having a transport based app is almost critical for the growth of a society. People don't have the time to wait around for taxis. They don't want to keep hailing cabs that refuse to stop or wait for them.
The app makes sure that people can know exactly where their hired vehicle is at all times. They can mention their pick up point and a drop point and watch a digital representation of their car heading towards them.  
They can check it out on the map easily and effectively so that they know exactly where it is. The app also should have features such as intra app calling and intra app chatting that allows easy communication between the driver and the rider of uber clone app
The time to start is now. Design your business model. Think of an existing problem and see how you can solve it. Develop this into your business idea. Start small and scale gradually. You too can be the next Uber.
---